Biography
---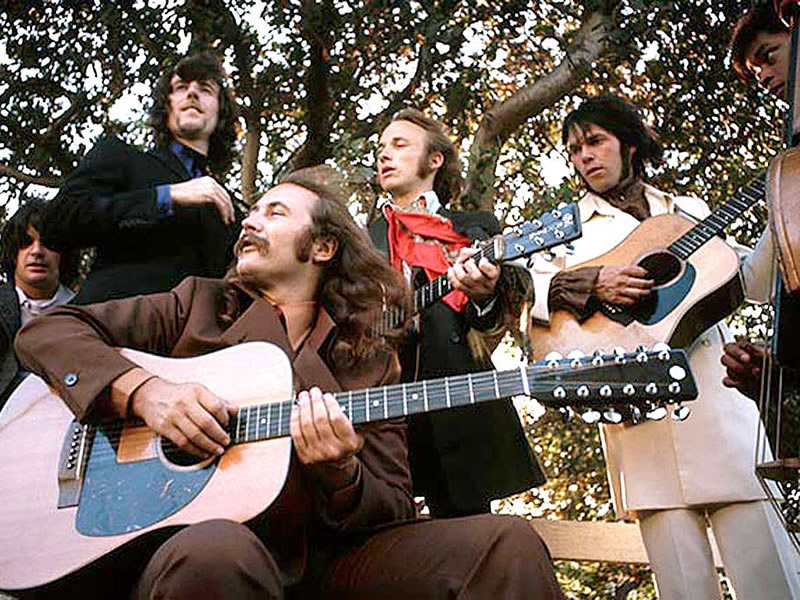 Crosby, Stills & Nash (CSN) is a vocal folk rock supergroup made up of American singer-songwriters David Crosby and Stephen Stills and English singer-songwriter Graham Nash. They are also known as Crosby, Stills, Nash & Young (CSNY) when joined by Canadian singer-songwriter Neil Young, who was an occasional fourth member.
They are noted for their intricate vocal harmonies, often tumultuous interpersonal relationships, political activism, and lasting influence on American music and culture.
Great anticipation had built for the expanded supergroup and their first album with Young, Déjà Vu, which arrived in stores in March 1970. It topped the charts during a 97-week stay in the United States and generated three hit singles, including the Stills-sung cover of Mitchell's Woodstock and both of Nash's contributions (Teach Your Children and Our House).
Certified Septuple Platinum by RIAA, the album's domestic sales currently sit at over 8 million copies; as of 2017, it remains the highest-selling album of each member's career.
Young and Crosby were staying at a house near San Francisco when reports of the Kent State shootings arrived, inspiring Young to write the protest song Ohio. Recorded and rush-released weeks later with the new rhythm section, it peaked at #14 in August 1970, providing another American Top 20 hit for the group.
In this turbulent atmosphere, Crosby, Nash and Young decided to fire Stills during a two-night stint at Chicago's Auditorium Theatre in July 1970. Following his reinstatement, the tour ended as scheduled in Bloomington, Minnesota on July 9, 1970; however, the group broke up immediately thereafter.
Concert recordings from that tour assembled by Nash produced the 1971 double album 4 Way Street, which also topped the charts during a 42-week stay. Although they would continue to collaborate in various and largely ephemeral permutations, the four members would not come back together in earnest until their 1974 reunion tour.
Crosby, Stills & Nash were inducted into the Rock and Roll Hall of Fame and all three members were also inducted for their work in other groups (Crosby for The Byrds, Stills for Buffalo Springfield and Nash for The Hollies). Neil Young has also been inducted as a solo artist and as a member of Buffalo Springfield.